The Time that is Given to Us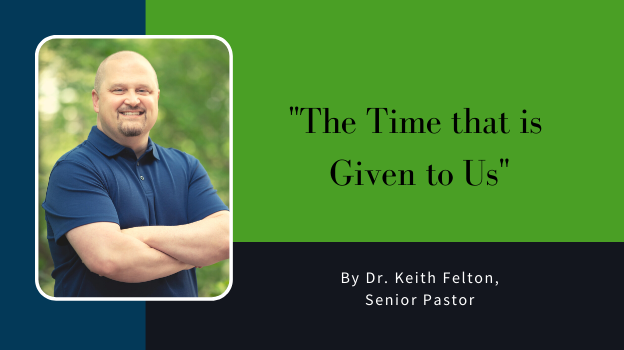 COVID remains a serious concern for First Baptist because of a variant of the virus. We know viruses can mutate over the course of time, and we know the COVID virus has mutated several times since late 2019, but the 'variant of concern' is the Delta variant.
The Centers for Disease Control and Prevention (CDC) considers a variant to be one of concern if it appears to meet one or more of a set of criteria, including that it might:
Cause more serious cases of the disease

Be more transmissible

Have greater resistance to current vaccines and treatments

Interfere with diagnostic test targets
Getting the COVID vaccine is the best way to prevent COVID infection and end the pandemic. The vaccine is not fail-safe, but the provable fact is the vaccine helps prevent serious illness and death. I encourage all who can medically do so to get the vaccine.
Many of you have already gotten the vaccine which has provided a measure of peace for our in-person activities. This does not mean we are in a completely non-transmissible environment. We need to wear our masks and keep our distance. We may have many who choose the online option as the best way for them to participate during this season and I honor that decision. We will continue to monitor all the updates concerning the virus and its variants. Our situation could worsen and prevent us from meeting in person. I hope this will not be the case, but I pray we can be flexible and manage any changes in a healthy manner.
We are currently holding off on our full schedule of fall Wednesday night activities, at least through September. We will still be in person for Wednesday Bible Study/Prayer Meeting. For those of you staying home, I hope you will take advantage of our Facebook Live feed for Bible Study/Prayer Meeting beginning at 6:15 pm. Please go to our website and access our Prayer List on a passcode protected page under Resources. Our Office Manager, Amy Carpenter, can get you that passcode. If you have a student, either in Children or Youth Ministry, please keep up to date with what is going on through our website or by contacting Amanda and Marcus; they would love to help you engage. Check out our book study happening on Tuesdays via Zoom. Check on church members you haven't seen in a while. If you can make it to our in-person activities, make it a priority to introduce yourself to visitors and help them know who we are through our kindness and love. Invite a friend to join you for in-person or online worship.
J.R.R. Tolkien may have said it best in his novel, 'Lord of the Rings' when his beloved characters Gandalf and Frodo dialogued, '"I wish it need not have happened in my time,' said Frodo. 'So do I,' said Gandalf, 'and so do all who live to see such times. But that is not for them to decide. All we have to decide is what to do with the time that is given us."
Can we make the most of our time given us, to be Christ-like in a difficult season, to champion the church and its ministries? We know whatever times we live in, the local church and the Gospel message is the hope of the world.
Dr. Felton's article appeared in FBC September newsletter, The Bridge. If you would like to receive a copy of FBC's monthly newsletter via postal mail or email, please contact the FBC office at 502.227.4528 or .