The Return from Exile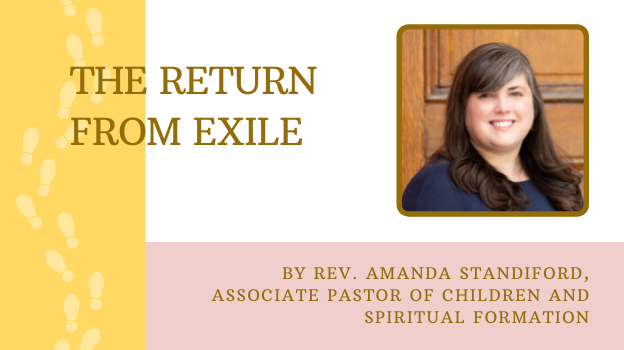 I thought about the story of exile a lot while our church was apart. I even wrote about it here.
Now that we're able to mostly return to doing life together in-person, I'm finding myself reflecting on the way the people of God returned from the exile.
If you'd asked me in March 2020, I would have predicted that when churches could regather, our sanctuaries would be bursting at the seams, crowded full of people hugging, laughing, and singing together. And I suspect that's how the people of God in exile imagined the return would be: wildly joyful and full of life and energy.
But like the people of God who made their way back across the desert from Babylon to Jerusalem in fits and spurts with Ezra and Nehemiah, we've had a different experience than we'd anticipated. Our return has been more gradual than we'd perhaps envisioned. It's been joyous, of course, but also sometimes bittersweet as we continue to miss some of our church family. After all, we're not ALL back yet. Many families are still awaiting vaccines for kids and teens. Others are delaying their return for other reasons. It's good to be back together, but to borrow a biblical phrase, our joy isn't yet complete.
Not all of the people of God came back to Jerusalem, and I'm trying to wrap my head around that, too, as we redefine "normal." Some of our weekday book study groups have found that Zoom meetings work well for them, so they plan to keep meeting online. Some of our Sunday school classes have shifted and changed during this season. As we think toward fall and beginning the new school year, I'm sure there will be other things we'll find that need to look different as we adjust to living in a new reality.
My prayer for FBC is that even as we navigate these challenges, we will continue to journey together, confident in our love for one another and in the faithfulness of our God.
Associate Pastor Standiford's article appeared in FBC's July newsletter, The Bridge. If you would like to receive FBC's monthly newsletter by postal mail or email, please contact the church office at 502.227.4528 or .