Thankful for the Weird Experiences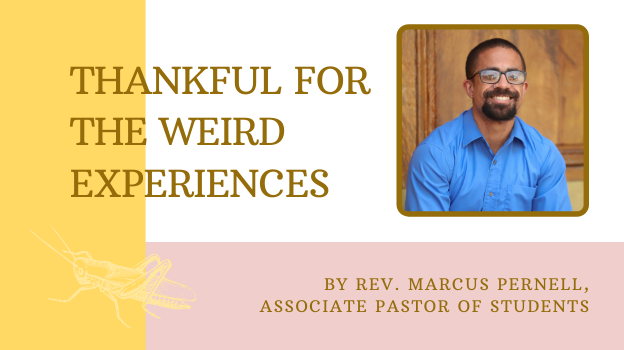 It's been such a good and "weird" transition with our community gathering again in-person: good in that we're together; weird in that we're together (good-weird, I promise)! I wouldn't trade either of these "weirds" for the world. I wouldn't trade seeing a youth and their families, whether in Sunday school or worship. I wouldn't trade seeing and hearing our wonderful choir lead us in worship, along with everyone in the congregation filling our building with praise. I wouldn't trade the many smiles and friendly exchanges we've all partaken of in this past month. I wouldn't even trade the collective cricket sounds from our prepackaged communion kits made during our first communion back together, which was one of the most hilarious experiences I've ever had in a worship setting.
There's obviously so many more things I could go on about, but all of this to say - thanks be to God our Beloved Community is back together again! I am beyond excited to see what these upcoming months have in store.
I pray that the peace of Christ would be with you and yours!
Associate Pastor Pernell's article appeared in FBC's July newsletter, The Bridge. To receive the monthly publication, please contact the church office at 502.227.4528 or .