Since We've Been Back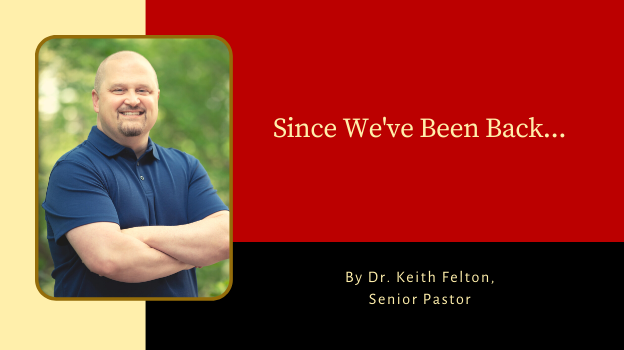 Our re-gathering for in-person activities has been encouraging. Even for the summer season with vacations, so many of you have prioritized participation at FBC and I am grateful. I realize that for some in our congregation, especially those with young families, you are choosing to continue worshipping virtually. We are thankful for the technology and the team who manage our online presence so everyone, regardless of their approach to this stage of the pandemic, can be involved. Thank you all for a nice resurgence of our community as we are coming out of a difficult season for our church.
I hope you will take time to peruse our totally new website, fbcfrankfort.church, that Kara Johnson, our Communications Director, has worked on tirelessly. It is as good a website as any church I have seen. The site is very user-friendly and easy to navigate. I am thankful when folks looking for a church in Frankfort visit our website, they receive a top-shelf online experience. Please utilize this tool of our church and invite others to learn about our Beloved Community through this medium.
My heart is always filled when I get a chance to be in the baptismal waters. Recently, we witnessed Ben Bayes follow Jesus in this beautiful ordinance. Maybe someone reading this has never been baptized and feels God nudging you to experience it. I would love to have a conversation with you about this sacred event in the journey of Christian faith. Maybe someone close to you has never been baptized and needs a friend to introduce them to Christ. I will be more than happy to help you or that individual with that dialogue and learning about baptism.
On July 19, we had a couple of special visitors to FBC. Paul Baxley, who is the Executive Coordinator for the national office of the Cooperative Baptist Fellowship and his assistant came to meet with our staff. We had a fruitful conversation about FBC and CBF. He was impressed with all you are doing in missions and ministry. I am thankful for CBF, both our state and national leadership. I am thankful for this 'theological home' of like-minded Baptists who champion things like local church autonomy, separation of church and state, missions around the world including local and state missions, a non-creedal people, a Christ-centered people, a freedom to read the Bible and have relationships with God by the dictates of one's own conscience, among other free and faithful Baptist commonalities. I encourage you to take some time and research all things CBF – through their website and social media platforms.
Please be on the lookout for visitors. We have been blessed to have visitors almost every week since June 6. Help them fill out a visitor's card. We have guest welcome packets which are the little blue folders at our entrances/exits. Make sure they know they are welcome. If they have children or youth introduce them to Amanda or Marcus. I pray as we come to worship, we will not only look to be filled, but also to serve those who may be unfamiliar with our community of faith.
Dr. Felton's article appeared in FBC's August newsletter, The Bridge. If you would like to receive a copy of FBC's monthly newsletter via postal mail or email, please contact the FBC office at 502.227.4528 or .