Our Faith in God's Vision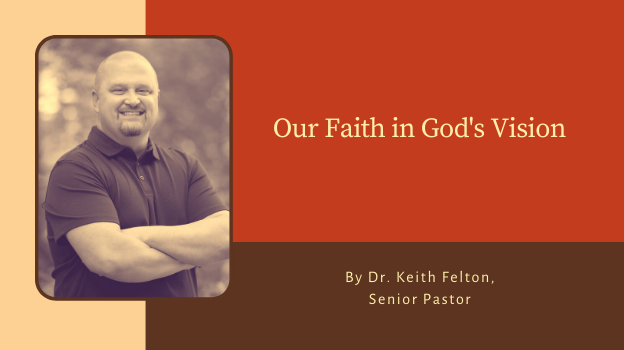 It has been some time since our mission/vision for the church has been updated. While I wanted to take this task on earlier in my tenure as Senior Pastor, COVID changed the timeline of this plan.
I've now been able to begin the work on 'Identity Statements' for our church. The ministerial staff has helped me fashion these statements about FBC, and I hope to present them to the church in the relative near future. My plan is to engage our Deacons to get their thoughts on these markers as well, and then provide the church at large an opportunity to consider whether the statements match us in our ministries and mission.
Over the past couple of years, I have provided themes that will show up in these identity statements (2020's CONNECT ~ GROW ~ SERVE and 2021's BELOVED COMMUNITY). I hope to capture who we are in a general sense so individuals visiting our website or in person can catch a glimpse of how we go about following Jesus. Please be in prayer about this process.
I am honored to be your Pastor, even in these difficult times with COVID. As I've reflected on this season of ministry, I pray you will realize something that has given me energy throughout this hard time. God has entrusted to us, for such a time as this, the ministries and mission of First Baptist Church – not during an easy period, but in one of the most challenging experiences a church could face outside of persecution. This means God has faith in us to not only survive but thrive in this era.
For over 200 years God has equipped this church with the right people for the various struggles and triumphs of their times in being a member of FBC. God saw fit to place us in this time and space for the current issues we are experiencing. I hope you will not forsake this sacred calling upon your life as God is counting on all of us to continue the incredible legacy of ministry in our city, county, state and beyond. I am overjoyed to have you all by my side as we do this together.
"Let us not become weary in doing good, for at the proper time we will reap a harvest if we do not give up." ~Galatians 6:9
Dr. Felton's article appeared in FBC's November newsletter, The Bridge. If you would like to receive a copy of FBC's monthly newsletter via postal mail or email, please contact the FBC office at 502.227.4528 or .