My Seasons at FBC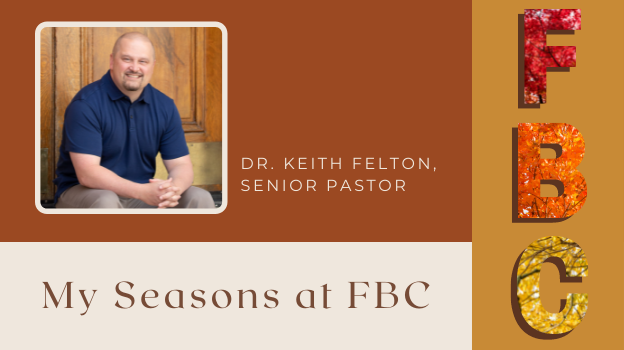 I have witnessed many positive changes during my two seasons at FBC. In the early 2000s, we grew into a 'missional' church before the description was popular. I was moved by the courage and faith of a relatively small congregation taking on large missional endeavors like the founding of a free clinic for the uninsured of our community. We responded to the calling to do our part in the Rural Poverty Initiative of the Cooperative Baptist Fellowship by creating a missions headquarters with the Emma Quire Mission Center. In 2001, I walked with you in leaving the Southern Baptist Convention because of the fundamentalist takeover that had been sweeping the SBC for decades. It was also during this first stint at FBC that our church brought on a young and very promising Minister of Music. Richard may not be as young now but was obviously the right choice, and we have all experienced the fruit of his labor for close to twenty years.
Since returning to FBC in 2016 as Minister of Missions, the Mission Frankfort Clinic has had three phenomenal Directors in Marianne Braden, Dana Nickles, and Deborah Arnold. FBC formed the Payday Ministry Committee who partnered with Commonwealth Credit Union to help victims of the Payday Loan industry. FBC initially raised over $10,000 to start this important ministry. Personally and collectively, we experienced the most impactful change for me and that was you calling me to be your Senior Pastor in 2019. Even though we have traversed through the difficult waters of COVID, we have seen many positives: the calling of three Associate Pastors-Youth, Missions, and Children/Spiritual Formation. Marcus, Michelle and Amanda have been bright lights during this season. We hired our first ever Director of Communications and Kara has exceeded all expectations for this vital position. Finally, we have been blessed with a skilled and competent Office Manager in Amy Carpenter. We have seen individuals make decisions for Christ, be baptized and join the church. We continue to host visitors in-person and online.
All the aforementioned are reasons I know FBC will not only survive the travails of this pandemic but will thrive in the coming months and years. God has richly blessed our congregation with incredible followers of Christ. Our mission to create a Beloved Community of Christ in downtown Frankfort is God's will. When we act justly, love mercy and walk humbly with God, we can represent Jesus in a way that makes eternal differences. Getting through the darkest valley will take all of us being committed to our family of faith. If you can't be here in person, participate online. If you are missing someone at church, contact them. If you see a visitor in person or online, introduce yourself and extend a warm welcome. If you know someone who could benefit from a church family, invite them. Help our ongoing ministries – Missions, Spiritual Formation, Youth, Children, Music, etc.? Let's continue to do the work of the Kingdom and advance the Gospel because when it's all said and done, that's all that's going to matter.
Dr. Felton's article appeared in FBC's October newsletter, The Bridge. If you would like to receive a copy of FBC's monthly newsletter via postal mail or email, please contact the FBC office at 502.227.4528 or .