It's a Joy to be Back; Now Let's Get to Work!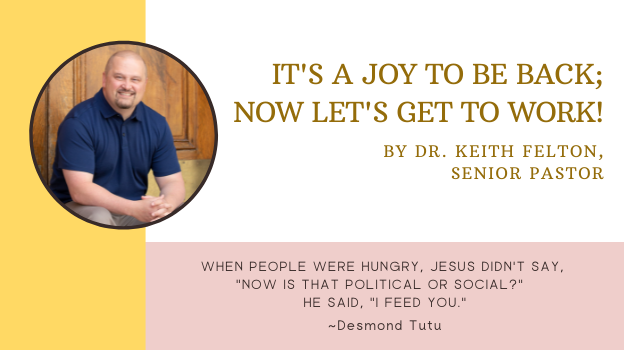 What joy it is to be back for in-person worship! I want to reiterate my gratefulness to all of you for working as a community in keeping us afloat during the time our facilities were closed. Participating online, making sure your tithes and offerings made it to the church, checking on each other and the staff, sharing with others about our virtual worship and Bible study opportunities – these things and more were part of how we made it through one of the toughest seasons imaginable for an organization that thrives on corporate worship, fellowship, and ministering together. I pray we have a 'summer surge' in attendance, offerings, and in our various ministries because of our mindfulness to never again take for granted our precious time to gather and serve.
Speaking of being together, I hope you will consider joining with me and others on Wednesday nights for adult Bible study/prayer meeting. We have begun a new study in 1st Thessalonians. Join us in Fellowship Hall or via Facebook live at 6:15 every Wednesday evening. It is a great time of fellowship and growing together in our understanding of God's Word. Will you come and possibly invite someone else? Connecting with God and each other midweek helps us refuel spiritually.
There are all sorts of great things going on in the life of our church. How are you plugged in this summer? We have opportunities for service by helping in our Clothes Closet or as a rotating receptionist at the Mission Frankfort Clinic. There is an exciting book study called "Welcoming Justice: God's Movement Toward a Beloved Community." Now is a perfect time to join our Sanctuary Choir. You can talk to Marcus about helping with Youth Ministry. Consider joining a Sunday school class and receive some spiritual formation through our incredible small group ministry. Help with our service on Sunday mornings by reading Scripture or offering a prayer. Maybe you have never been baptized and desire to take that step of faith – I would be more than happy to talk to you about that important part of our spiritual journey. There are all sorts of ways to CONNECT, GROW, and SERVE within this BELOVED COMMUNITY.
Desmond Tutu once said, "I don't preach a social gospel; I preach the Gospel, period. The gospel of our Lord Jesus Christ is concerned for the whole person. When people were hungry, Jesus didn't say, 'Now is that political or social?' He said, 'I feed you.' Because the good news to a hungry person is bread." This quote reminds me of FBC. May we be ever vigilant in our efforts to advance the Gospel in a holistic manner. Our mission is to follow Jesus who was attentive to the whole person. It reminds me of the old full-service gas stations where you didn't only get gasoline, but the oil was checked, tire pressure was examined, wiper fluid got refilled, windows cleaned – those stations were concerned about the whole car. I hope and pray we will always be mindful that we are to be a 'full-service' church – concerned about the whole person where the whole Gospel is expressed.
Dr. Felton's article appeared in FBC's July newsletter, The Bridge. If you would like to receive a copy of FBC's monthly newsletter via postal mail or email, please contact the FBC office at 502.227.4528 or .