Dr. Felton's May 2021 Newsletter Article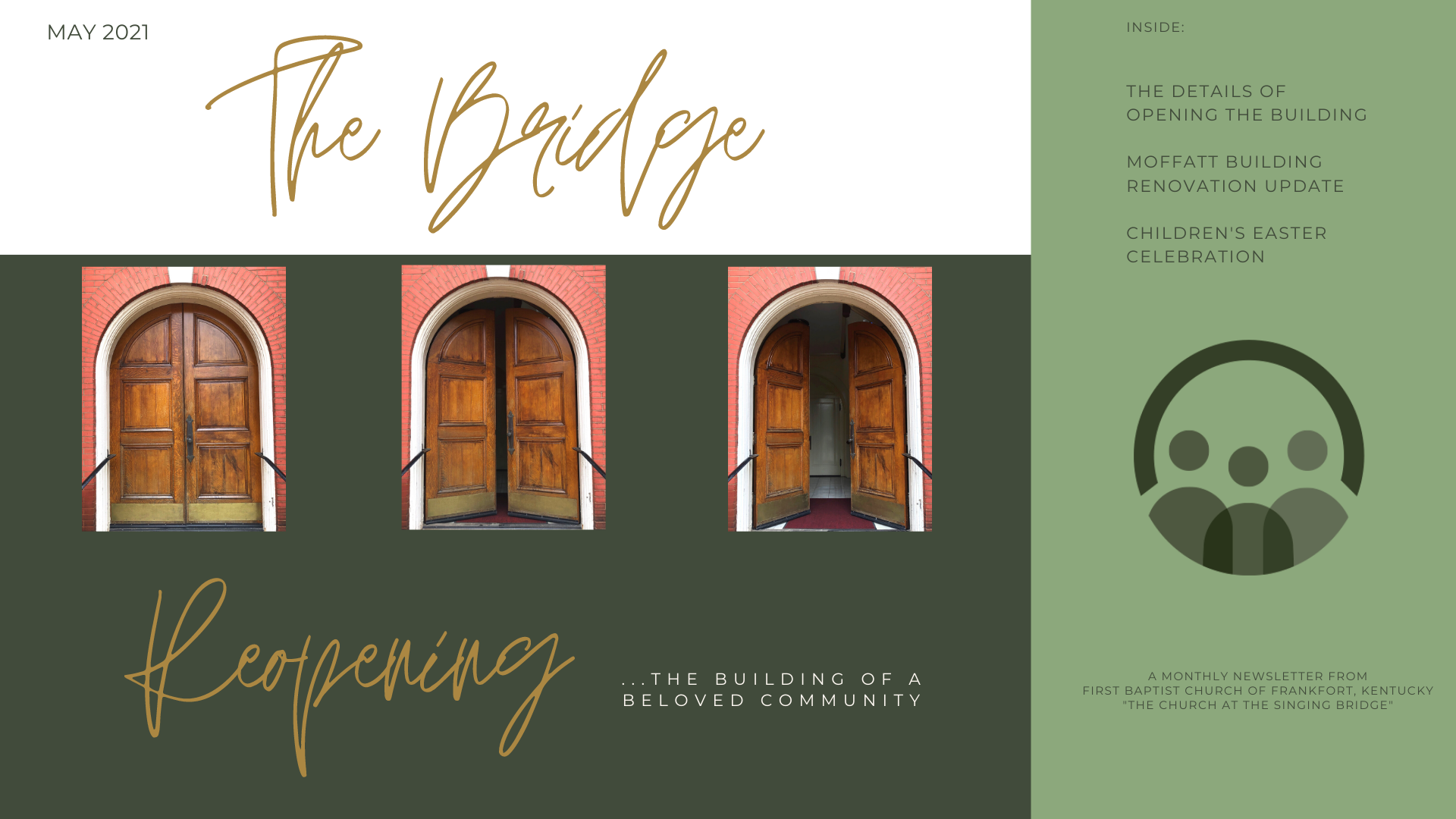 For over 200 years, First Baptist has been making hope visible to the city of Frankfort, Franklin County, the Commonwealth, and the world. This past year has been one of the most challenging in our history. In difficult times, one of the best exercises for the mind and heart is to name things of which we are grateful.
You have heard the staff say frequently how thankful we are for Adam & David Columbia. They have tirelessly kept us connected with each other on Sundays by broadcasting our worship through live streaming. Our church is indebted to them for their faithfulness and technological expertise. Well over a year ago our church voted on creating a brand-new staff position, Director of Communications. I knew how important this would be before we knew anything about the pandemic. We needed a point person for extending our reach through social media, educating the public about FBC, and coming to age with all things in an ever-increasing virtual world. We have all witnessed the critical nature of this position held by Kara Johnson, especially during this pandemic. Thank you, Kara.
I am grateful for creative and industrious Associate Pastors. Michelle, Richard, Amanda, and Marcus adapted and simply excelled in a ministerial world they were not trained for. We hired an excellent new Office Manager in Amy Carpenter during this crazy time, and she has surpassed all expectations in meeting our needs in this important position. As always, our Facilities Manager, Tony Hager, has done an outstanding job in making sure everything in our building was taken care of, especially with the flood. Our Accompanists did not miss a beat during this past year. Linda McKinley and Lois Summers brought us beautiful musical offerings every Sunday, providing a sense of normalcy in a chaotic time. When we thought it was safe, many of you came to our Sanctuary and helped us with a song, a reading, or a prayer that enriched our services. Others didn't hesitate to get on camera and provide us a video of your prayer or some other contribution for the service and for all of this, we are eternally thankful.
I still shake my head at times when thinking about how incredibly faithful all of you have been with tithes and offerings. To be in the black after a year of pandemic speaks volumes about your spiritual maturity and understanding of church life. I can't tell you how encouraging it has been for me to experience the devotion and care you have for our church. This made it possible for us to confidently call two new Associate Pastors and launch a significant construction project to provide accessible ADA restrooms on the main floor of our building. I have found myself on more than one occasion getting emotional in talking to colleagues about your commitment and support.
Our staff has relied more on Deacons this year than any other. Our Deacons took on a huge task of having monthly contact lists of our membership and making sure we all stayed connected and needs were met. On several occasions I've been contacted by various members on how much this has meant to them. We are all grateful for our Deacon body and how they have stepped up during this time. We are grateful for our Sunday school leadership and their adjustment to Zoom meetings and teaching in these conditions. Our committees, our Children's Wednesday night leaders, participating at our business meetings, and Wednesday Bible Study/Prayer Meeting have all been done differently this year, but you have made it work!
We are going to reopen the doors soon and return to in-person activities. Let's be respectful of those who choose to continue participating with us virtually. My prayer is that we will champion and cherish our gatherings more than ever. I know I will. Thank you for your patience, prayers, and encouragement. I believe with every challenge comes opportunity and lessons that can help us grow and become the Christ-followers and beloved community God desires.