A Prayer for Music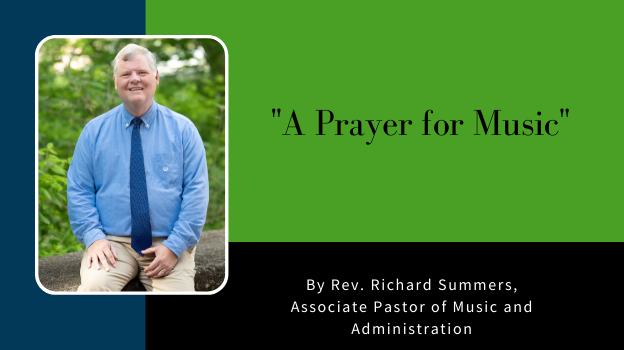 Almighty God,
You alone are worthy of our worship. You are Creator, Sustainer, Savior, Alpha and Omega, in whom is our very existence and breath. You are the creator of all gifts, including the incredible gift of music. My prayer is that through the music ministry of First Baptist Church you are always our focus and our audience. Through congregational hymns, instrumental and choral offerings may your ears be blessed with the sound of our music and be pleased by the hearts from which they are offered. May only our best be given to you and may it be given in genuine love and thanksgiving for who you are, have been, and will forever be. May you be glorified, and may we be edified in all we offer. Forgive us when we allow our pride and vanity, or even our desires, interfere with the goal of worship being about you.
Thank you, Lord, for the amazing gifts you have planted within this blessed congregation and for the selfless giving of those gifts back to you. Thank you that even while we are offering ourselves to you through music, we experience the joy of making it. Thank you for speaking to us through it and for how music aligned with the texts of scripture and great hymns comfort us, encourage us, enlighten us, and motivate us in all of life's circumstances, both good and bad.
Lord, I could not concur more with the words of F. Pratt Green when he wrote "When in our music God is glorified, and adoration leaves no room for pride, it is as though the whole creation cried, Alleluia!" May we strive to always make creation cry Alleluia!
In Your holy name I pray,
Amen.
Rev. Summers' article appeared in FBC's September newsletter, The Bridge. If you would like to receive a copy of FBC's monthly newsletter via postal mail or email, please contact the FBC office at 502.227.4528 or .