Change through the Liturgical Year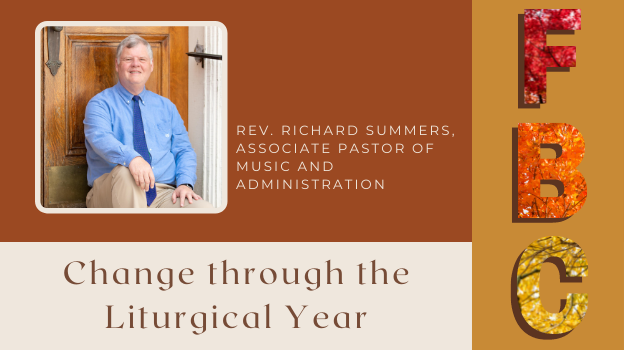 Music ministry has changed dramatically in the forty plus years I have served on a church staff. The most positive change I have seen and experienced is the acceptance of the liturgical church year in many churches, including ours. We have the privilege, and responsibility, of telling the gospel story over and over again and following the church year calendar helps us accomplish that. It is rich in symbolism and leads us through the life of Christ. The Church Year consists of Advent, Christmas, Epiphany, Ordinary Time, Lent, Easter, Pentecost, and more Ordinary Time (days that are numbered with ordinal, or counting, numbers).
Each of these seasons, like our natural seasons of Winter, Spring, Summer, and Fall, have a different feel and excitement. The rich traditions of the church such as Advent candles, Christ candle, Imposition of Ashes, fasting, Holy week, Maundy Thursday, Good Friday, Easter Sunday's entrance of the Christ candle, the fire of Pentecost, remembering our beloved members who have gone home to be with the Lord on All Saints Sunday…all of these help us to tell, and relive, the story of Jesus.
Each of the seasons has color associated with it, and those colors are displayed on our communion table each Sunday. The richness of the church year is something very special to me and is the most positive change I have seen and experienced in my ministry!
My goal is always to plan thematic worship services. In essence, I want the services to follow the scripture of the day and emphasis of the day. The Church Year aids in planning for Sundays. On pages 708-711 of our hymnal, you will find an excellent synopsis of the Church Year that I hope you will read the next time you are in the sanctuary.
Rev. Summers' article appeared in FBC's October newsletter, The Bridge. If you would like to receive a copy of FBC's monthly newsletter via postal mail or email, please contact the FBC office at 502.227.4528 or .